/
maddie's room mood board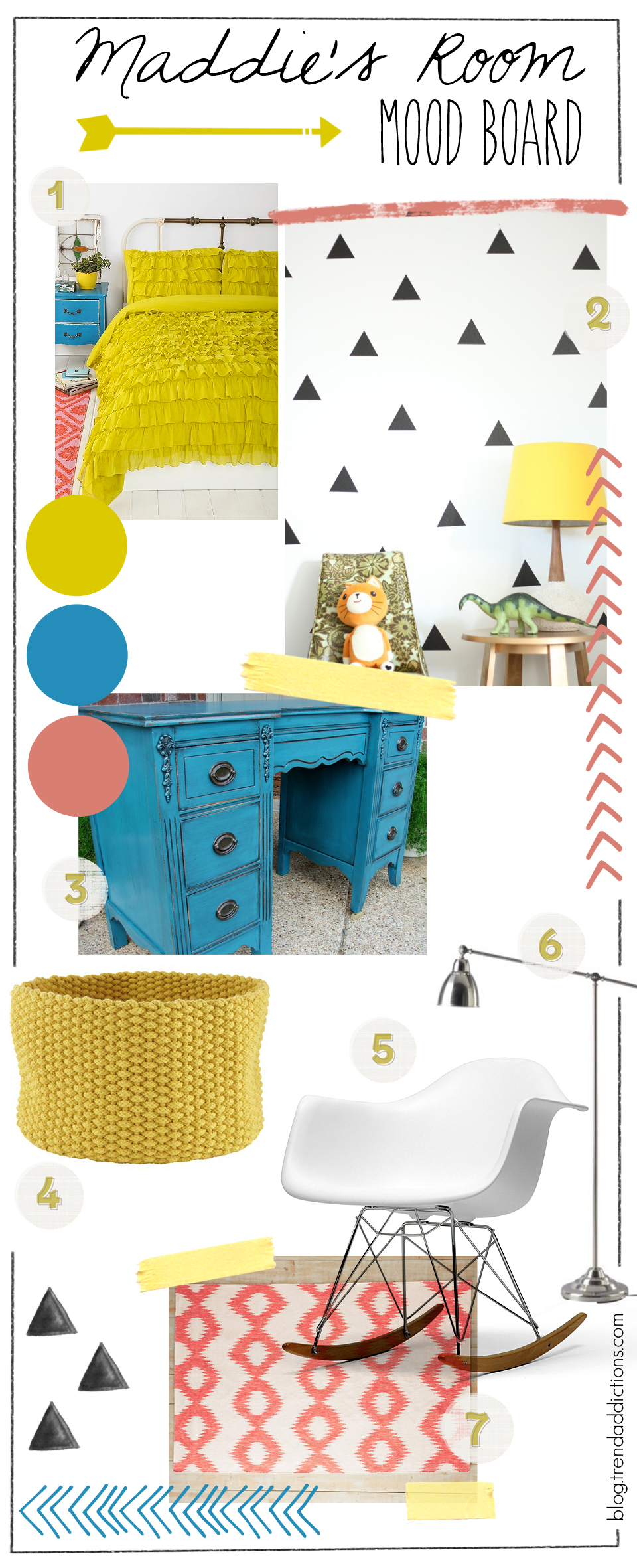 Whenever I'm re-doing a room, I ALWAYS draw up everything on a piece of paper to help me. I do the same thing for my store windows and when customers ask me to help them decorate a wall in their house. I'm a very visual person. We moved into our house almost 4 years ago, and I haven't done anything new to my older daughters room. For me, this is odd. This past March, she turned 7. I'm not sure about other moms, but 7 was a game changer for me. It's like she went from 6 to 40. Ever since she was little, she's had the same color scheme in her room — sage green and pink. It was all the rage at Pottery Barn at the time, and she needed it. Well, I needed it. Now that's she's a 40 year old in a 7 year old body — I think she deserves something a little more 'Maddie.' Her favorite color has always been yellow, so I want to incorporate that into her room. I found this amazing duvet cover from Urban Outfitters, and she begged and begged me for it. I haven't gotten it yet, but I have a feeling (especially because it's on sale now) that she will be getting one. I'm loving the current triangle trend going on. I love the eclectic feel of having different furniture but all painted in the same color. I found this peacock color and, wow. I plan on doing a blog on her room makeover, so stay tuned!
one // Waterfall Ruffle Duvet Cover | Urban Outfitters
two // Triangles Wall Decals | Urban Walls
three // Peacock Blue Vanity | (how to) Face Lift Furniture
four // Large Kneatly Knit Rope Bin | The Land of Nod
five // Vinnie White Cradle Chair | Overstock
six // Barometer Floor Lamp | Ikea
seven // Ikat Flat Weave Wool Rug | Garnet Hill
What do you think about this mood board? Do you like the colors? Do you want to see the finished product? Let me know your thoughts — I would love to hear them!
Love, Megan.