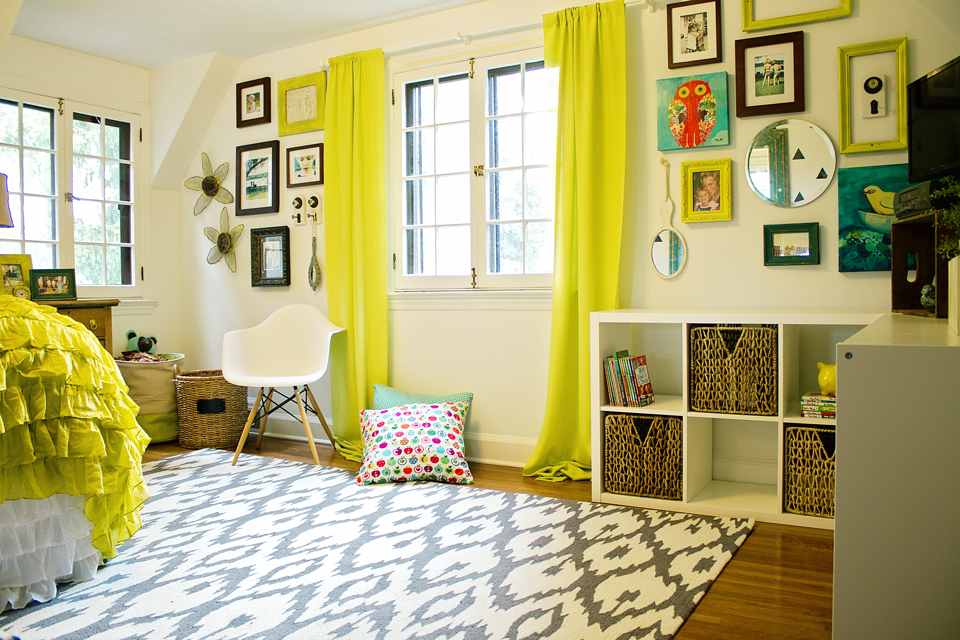 We have been a little backed up with the blog the past couple of weeks. I have been busy with Maddie's room makeover at my house. If you missed the the first post on my mood board for her room, check it out here.
When we moved into our house back in 2010, we didn't have to do any painting. Her room was a brown color and it worked with my motif. However, the older she has gotten — having a distressed hutch (that looked cool) in her room wasn't really practical. I decided it was time for a change.
Especially now that she's 7. Holy crap — SEVEN!
Anyway, I digress.
Maddie's favorite color is yellow. I found this ah-mazing duvet cover from Urban Outfitters and immediately knew she would love it. However, in the picture it was much more yellow. When it came in, it was totally chartreuse. I had to slightly change my color plans, but tried to stay true to what I wanted.
I found this great little decal company through Instagram called Urban Walls. The have the BEST instagram pictures of people using their decals. I thought these triangle decals would look great in her room, since I was painting it bright white. I fell in love with this rug when I found it online and it was 60% off!
Maddie is obsessed with cats, I call her a tiny cat lady. You can read more here. I found these pillow shams and knew she would freak out. That she did.
I saw these great shelves and baskets at IKEA and had my husband pick them up on one of his business trips. I love the eclectic look of the walls above them. Everything you see that's chartreuse, I spray painted. I used Krylon Color Master in citrus green. The hand mirrors are from Trend Addictions, of course!
I wanted this chair, so bad. I looked everywhere for one, that didn't cost an arm and a leg. I found these chairs at Overstock — and they came as a set!
Maddie's one request was for some pillows for her to use when she lays on the floor and reads. I found this fabric at Joann's and made them for her. She was more than pleased with them. I also bought fabric for her curtains, but when I got it home — it turned out to be way too bright. I stuck them in a bathtub of tea for an entire day, and it muted it down to the perfect color.
Here are some before pictures. What a transformation, eh?
How do you think her room turned out? Do you plan on doing a room makeover? I would LOVE to hear about it!
Love, Megan.