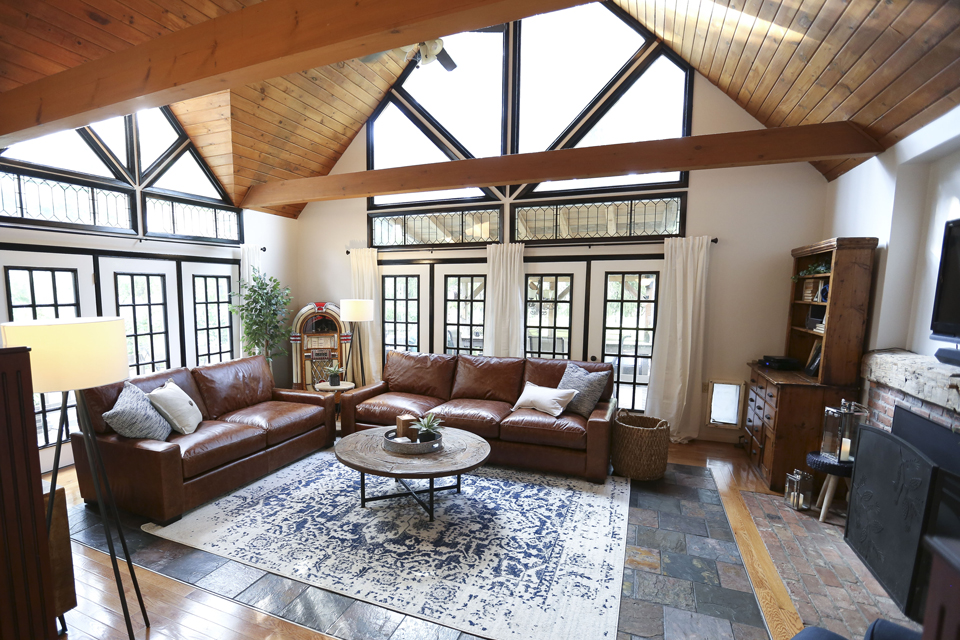 This room reveal was a special one. Heather is one of those people who is extremely sweet, a great mother and she comes from a family full of love.  She also happened to deliver my youngest, Hazel. When Heather first asked me to do her living room for her, she explained that it was all because of a picture that she loved. Bessie, the cow. Now, this picture isn't just some small thing that needed to hung up on the wall — the thing was 50×50! That was job #1, finding a space for Bessie. Job #2 was finding a way to add her father's jukebox into the room. I love to work with the sentimental things that mean something to my clients. I'm not a sentimental person, so for me, it's outside of the box and I love that.
Heather grew up in this house as a kid. After moving back into it as an adult, her father added on the living room. With 20 foot ceilings, leaded windows and one killer mantle — this room was perfect to work with to make the place she was looking for. I immediately knew that I wanted to change the wall color from green with white trim, to grey with black trim. This took a lot of convincing. Black is a serious change and shock when it's actually done. But she had complete trust in me, and in the end it turned out perfect.
Every single week, this woman brings joy into people's lives. by bringing babies into this world. She once told me that every work day for her, is a birthday party. If anyone is deserving of this, it's Heather. I was very happy to do this for her and hopes that her and her sons enjoy it.