Since my newly changed style, and helping others with their homes. I've decided to start a new column, The Want List. I will share things that I am currently crushing on from furniture, to home decor. Without further ado, here is my Minimalist Want List.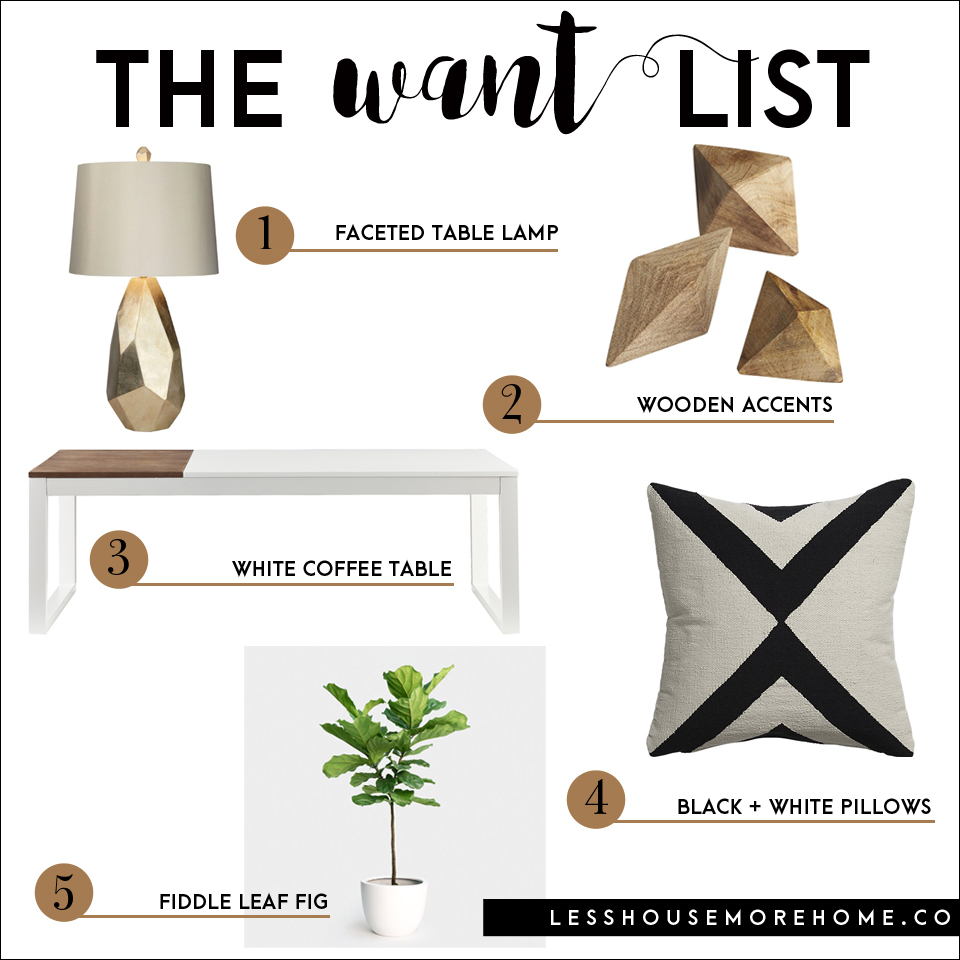 ONE. Faceted Table Lamps — I've become completely in love with these. I love the clean lines, and the minimalist feel it can bring to a room. They come in all sorts of materials. Concrete, marble, wood — you name it. You can find a couple of my favorites here, and here.
TWO. White Coffee Tables — I can't stop staring at these. I've learned that if you stare at something, it will be yours. No? Well, hopefully, one day one of these babies will end up in my living room.
THREE. Wooden Accents — I've recently changed my style from rustic to more modern. However, I still love to bring in wooden items for decor. These would look ah-mazing on a white coffee table. Wait, what?
FOUR. Black + White Pillows — This is quite possibly THE easiest way to change-up your style without breaking the bank. I have a 3 piece leather living room, which was perfect with my rustic style. Now, not so much with the modern feel. But I'm not giving up on those couches! I love them too much. Instead, clean it up with some black + white pillows to bring in a modern feel.
FIVE. Fiddle Leaf Figs — I have a confession to make. I kill everything living. Scratch that. I kill everything living, except my kids and dogs. The fish, I may have thought about flushing them. Don't judge. I have read about the effects having live plants in the house can do. Fine, I'm lying. But it sounds good enough to bring in some and try to make it a go. No?